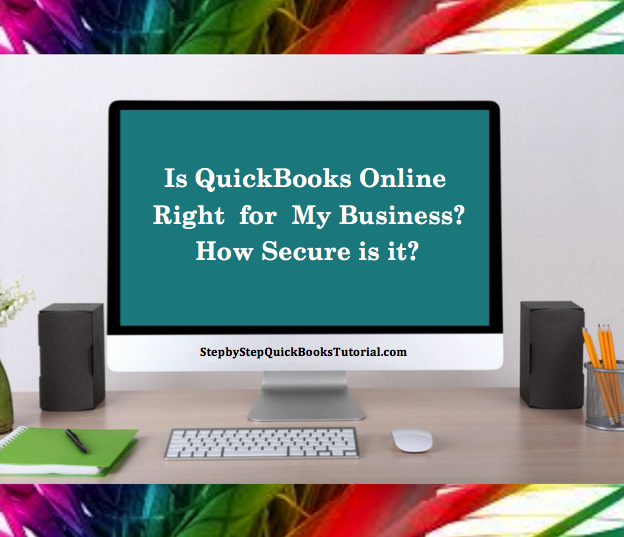 As a finance professional working on the front line with many startup business owners and entrepreneurs, these are two of the most common questions I get asked – a lot! And the short answer is – it depends. Whether or not QuickBooks Online is a good fit for your business will depend on the type of business you have and what you will need to get done with the software in order for your business to be fully functional. QuickBooks Online has many benefits on its own, and there are many third-party applications available that are designed to extend QuickBooks reach. However, there are instances where the Online version of QuickBooks will not be the best solution for your business. Let's take a look at some of those instances.
When is QuickBooks Online not Right for My Business?
I operate a Manufacturing business and require various units of measure
My type of business require detailed job costing
I operate a business with very robust inventory needs
I need to have multiple users with very detailed user permissions
I need to be able to progress Invoice and receive partial purchase orders
I require rigorous, customized reporting capabilities
If your business does not fit into the above-mentioned list, and the below describes your business, then QuickBooks Online can definitely work for you.
When is QuickBooks Online Right for My Business?
I run a service-based business or a product-based business with light inventory needs
I want to work on the go and be able to access my information with my iPhone, iPad, Android, or other mobile device like a tablet
My business has one or more locations
I need to have multiple people access and use QuickBooks simultaneously
I do not want to house QuickBooks on my server
I am comfortable working online
Anytime, anywhere access as long as there is an internet connection
Capacity to integrate with multiple third-party software applications
Automatic updates and upgrades
Data is backed up automatically
Easy data access from a tablet or smartphone
Automatic bank and credit card transactions download from multiple financial institutions
Capability that allows your CPA and/or bookkeeper to access your data
Multiple built-in business reports to help track business finances
Ability to accept payment for your products/services online via your Invoices
Free technical support
Are there any downsides to using QuickBooks Online?
Yes, although not many, there are downsides to using QuickBooks Online. Here are a few of the most common:
Accessing multiple screens at one time can be difficult. (You can use multiple windows in your browsers to keep what you are using open, but it will sign you out if left inactive for long periods.)
If your Internet goes out or Intuit's servers go out, you will not be able to access your company file at all.
You cannot backup your data, and keep a copy of your file.
QuickBooks Online Interface is constantly changing, and although change is good, it can be a bit annoying. (You can use QuickBooks today and it's one way with the navigations where they're use to being, and you logon tomorrow and they are somewhere else. Maybe not such a big deal!)
Is QuickBooks Online Secure Enough to Protect My Information?
QuickBooks Online has the same security and encryption that banks have. According to the fine print on the QuickBooks Online website, it has 128-bit Secure Sockets Layer (SSL), which is the same encryption technology used by some of the world's top banking institutions to secure data that is sent over the Internet. So as a matter of safety, it is safe to say QuickBooks Online is safe to use.
So the first thing you need to do is identify the specifics that you must have in a software, then decide if QuickBooks Online is right for you. You can test drive a QuickBooks Online company file for free which is a great way for you to try out QuickBooks Online before you make your purchase. Feel free to play around with the sample data as much as you want to, as you will not be messing anything up. Click on this QuickBooks Online Test Drive link and enter the security verification code as shown on the screen. Any data that you enter will not be saved after you close the browser, or refresh the page.
Also, it's important to note that there are three subscription types of QuickBooks Online available; QuickBooks Online Simple Start, QuickBooks Online Essentials, and QuickBooks Online Plus. See comparison chart below (Double click image to view enlarged):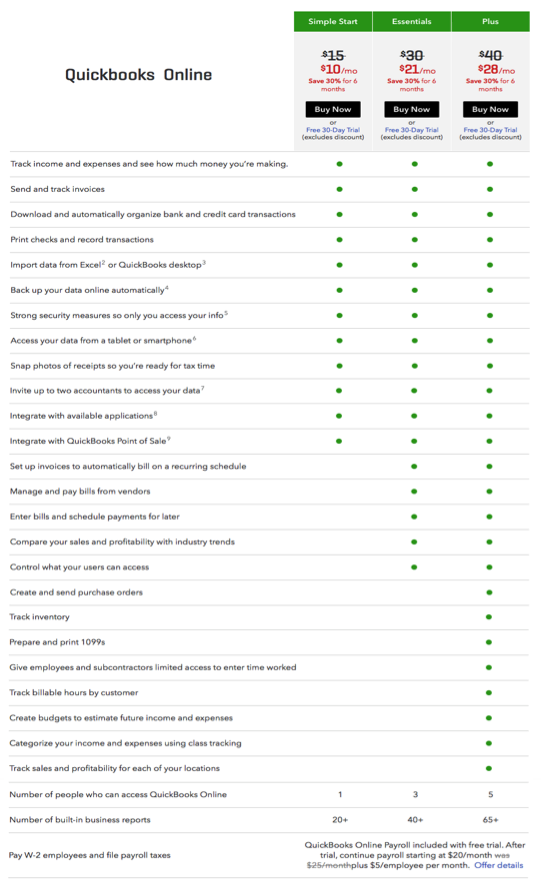 If QuickBooks Online will not do the tasks you require, and you cannot find a software application that will, then you should use one of the desktop versions of QuickBooks. Also, bear in mind that QuickBooks Online is constantly being updated, and although it may not be a good fit for your business now, you should keep checking back to see if it has caught up to what you are looking for. Technology is constantly changing, and so is QuickBooks Online.
Watch CPA Michelle Long break down the differences between QuickBooks products: